Haaland surpasses Andy Cole and Alan Shearer for goals in a Premier League season as Man City brush aside West Ham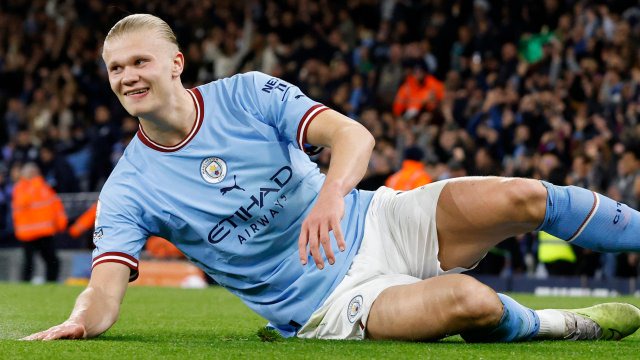 Manchester City will play eight games in May, fixtures that will determine how they position themselves for a shot at the dream treble in June. In previous years, Pep Guardiola has attempted to quash any grand declarations of intent, but no such luck in 2023. Another match done, another match won, another night on which we learnt nothing new. Guardiola's team are in beast mode and there's enough beauty to go spare too.
And, as now seems customary, another match during which Erling Haaland offered the statistical flourish. He has now broken the Premier League record for goals scored in a single season that was held jointly by Andy Cole and Alan Shearer. Both times, they were playing in a 22-team league. Sometimes it feels like City are in a kingdom of one and Haaland is its ruler. They are top of the league again. This time they might not let it go.
They were forced to wait a while – is that enough to constitute jeopardy? I assert that there is no more frustrating team in the country to watch as a neutral than Manchester City in staccato mode because there is such a vast gap between potential and delivery.
During the first half on Wednesday, this was their lethargic worst. The spine of the team was sloppy: Ruben Dias committing fouls, Rodri misplacing passes, Julian Alvarez just-not-quite-ing. Riyad Mahrez was in one of those moods where a clap immediately precedes a groan.
But there are levels of underperformance, clearly. This team is simply too strong, and their opponents sit too deep, for concerted pressure to ever be absent. Perhaps we should warp this back into a compliment: only Manchester City could frustrate the hell out of you and fail to service the magnificent striker and still hit both posts in the opening 45 minutes. They ended the night with 15 shots and another three goals.
On these infrequent occasions when City are tripping themselves up a little, the Etihad is a fascinating place. You will hear the same groans, gripes and grumbles as you would at Middlesbrough, Morecambe or Mickleover Sports, identical unsolicited advice and angry censure when something goes awry. Even here, where the football is regularly sensational and the results almost always exceptional, doubt lives in the dark cracks.
West Ham were at least stubborn, considering. They arrived in the north west laid low by a stomach bug – Declan Rice, Tomas Soucek and Nayef Aguerd failed to make a matchday squad that included only five outfield substitutes.
To beat this opponent in this mood, you need everything to go your way. David Moyes' team were broken, beaten and burpy before kick-off. City were missing Kevin de Bruyne, but you'll have to forgive the lack of sympathy.
The away end was equally sparse; can you blame them? The game was televised, public transport is hideously expensive at best, unreliable on average and non-existent after full-time at worst. You could drive the four hours up and the four hours back again, this time through overnight roadworks and road closures.
Most goals in a Premier League season

Erling Haaland – 35 (2022-23)
Andy Cole, Alan Shearer – 34 (1993-94/1994-95)
Mo Salah – 32 (2017-18)
Alan Shearer – 31 (1994-94 and 1995-96)
Cristiano Ronaldo – 31 (2007-08)
Luis Suarez – 31 (2013-14)
Kevin Phillips – 30 (1999-00)
Thierry Henry – 30 (2003-04)
Robin van Persie – 30 (2011-12)
Harry Kane – 30 (2017-18)
Or you could save your hard-earned money for the next trip, when you might have a chance of actually winning. If you are looking for guilty parties over empty seats, football supporters themselves should be bottom of the list.
The hallmarks of every away-day slog were present: low possession, deep defence, fortunate breaks, a goalkeeper taking 40 seconds over every goal kick. But given the pre-match (literal) upset, there was resolve and grit. They had the first good chance of the match and Michail Antonio tried to lead the line on his own, like one of those shepherds in the Italian hills whose flock is spread across at least six valleys.
Which only makes the manner of their eventual defeat harder to stomach, if you'll pardon the pun. You can accept City dizzying you with passing triangles or just knocking you to the canvas with a Haaland headbutt. But to misjudge your offside trap from a free-kick into the box that allows a centre-back to head home unmarked is a kick in your own balls.
From that point on, you know what happens. A stung opponent realises that it must push on and is given slight cause for comfort in that strategy. And then a brilliant attacking midfielder – in this case Jack Grealish – has space on the counter, times his pass perfectly and Haaland scores an impudent finish as if he is 12 years old playing in the park against his younger sibling's mates.
Phil Foden's volleyed third took a nick on its way through, but he is one of very few in City blue in need of a little good news.
Foden's goal prompted dozens to leave the Etihad. Not from the away end, for they had long since started to dissipate into the Manchester night. But in every section of the home stands, the oldest and those who brought the youngest stood and took the chance to steal a march on the crowds. They will stick around when it gets sticky, when it gets tight and when the muscles start to tense. It might be a while yet.