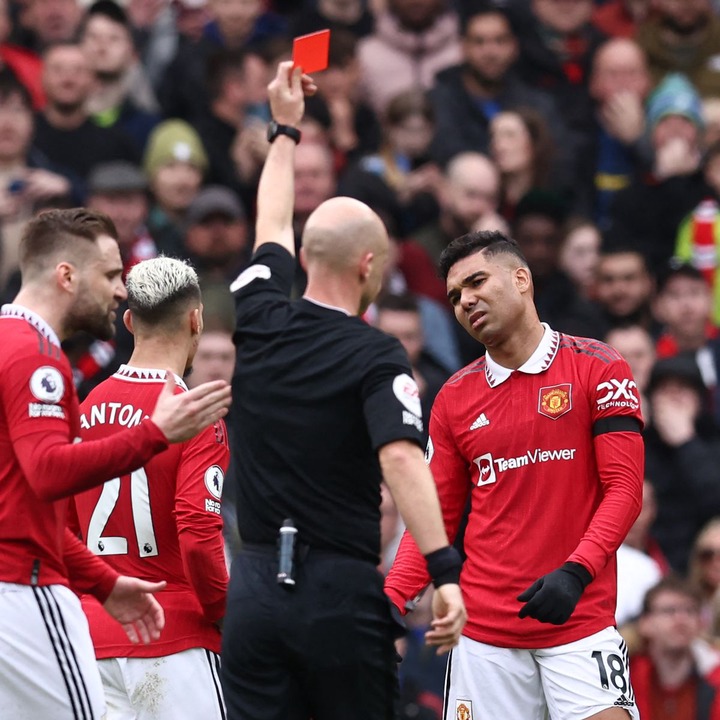 Manchester United's Casemiro faces a four-match ban following his red card during the Southampton game.
The Brazilian footballer was initially shown a yellow card by referee Anthony Taylor, but was later sent off on a VAR review after making a high tackle on Carlos Alcaraz.
This is Casemiro's second red card in a little over a month; he was also sent off during United's win against Crystal Palace in February.
Casemiro missed three games on the previous occasion, and his latest red card means he will now be absent from four fixtures.
If the club's appeal against the ban is unsuccessful, he will miss the Premier League games against Newcastle, Brentford, and Everton, as well as the FA Cup quarter-final match against Fulham.
However, he will be available to play against Real Betis in the Europa League's last 16-second leg.
Although Casemiro's suspension will not affect UEFA competitions, his absence will be a significant blow to Manchester United's Premier League campaign, even though their title hopes are slim.
United are currently 16 points behind league leaders Arsenal with only 12 games left to play, but they do have a game in hand.
Possible replacements for Casemiro include Fred, Scott McTominay, and Marcel Sabitzer.
Casemiro was visibly upset as he left the pitch after being sent off, and his teammate Antony had to console him as he made his way to the dressing room.
Below are the matches, their dates and times that Casemiro will miss for Manchester United:
March 19 – Manchester United vs Fulham (FA Cup Quarter-Final)
April 2 – Newcastle vs Manchester United (Premier League)
April 5 – Manchester United vs Brentford (Premier League)
April 8 – Manchester United vs Everton (Premier League)